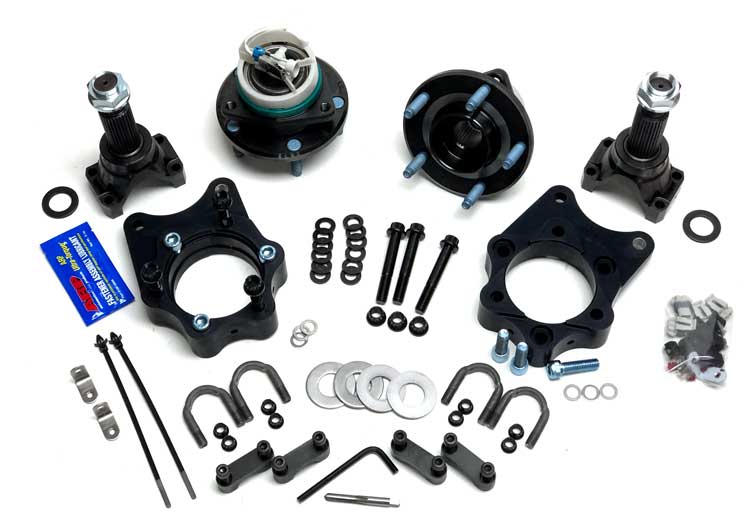 C4 to C5 Rear Hub Conversion Kit
SKF Racing Hubs
7075 Aluminum Hub Brackets
30 Spline Outer Spindles
ABS Connectors
ARP Fasteners
Kits for C5 Calipers or Wilwood Calipers
The Van Steel X-Tracker Hub/Spindle Adapter Kit combines a PoppySpeed Racing designed aluminum 7075 hub adapter and a Driveshaft Shop C5/C6 30 spline 300M spindle to allow the use of the SKF Racing X-Tracker Hub on 88-96 Corvette rear axles.
SKF's X-Tracker consists of a double row angular contact ball bearing arrangement, in which the outboard row is at a higher diameter and contains more balls than the inner row. This unique design increases the bearing's capacity while improving hub stiffness by 50% over a traditional tapered bearing unit.
The PoppySpeed Racing aluminum hub is CNC milled from billet 7075 aluminum and heat treated to T6 specifications and produced in the USA. It mounts in the stock bearing bracket location and provides provisions for mounting the X-Tracker bearing including machined passages for ABS wiring.
The Driveshaft Shop C5/C6 30 spline 300M spindle allows the C4 half shaft to be compatible with the SKF Racing X-Tracker Hub. As well, the updated spindle provides a significant increase in torque capacity over the stock 27 spline unit. The new spindle does not have a reluctor wheel provision, but the X-Tracker bearing incorporates a built-in ABS sensor which will be used to replace the functionality of the stock ABS sensor.
The kit was designed as a completely bolt-on upgrade. No machining is required, and the kit preserves the stock wheel offset, full ABS functionality, and compatibility with factory or wilwood calipers (choose kit below).
Part number: HAC4L
Price: $2,999.99 each