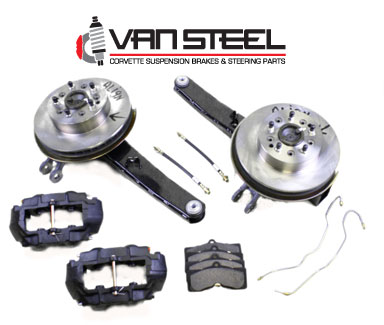 1963-64 Rear Drum Brake Conversion Kit
Kit Includes
Rebuilt Bearing Assembly (Bearing, Races & Seals), New Spindle, Caliper Mounting Bracket, New Stainless Steel Hardware Kit, New GM Style Shoes, New Backing Plates, New Rotors and T-Arms,
Brake Pads
Hoses
Calipers (2)
Built to order, please allow 1-2 weeks for us to prep parts and complete assembly.
Aftermarket knock off wheels may not fit. 64 only, 5.5" wide wheels will not clear calipers.
Part # BCKR-6364
Price: $2,299.99 each
Built to order lead time: 3-5 Days