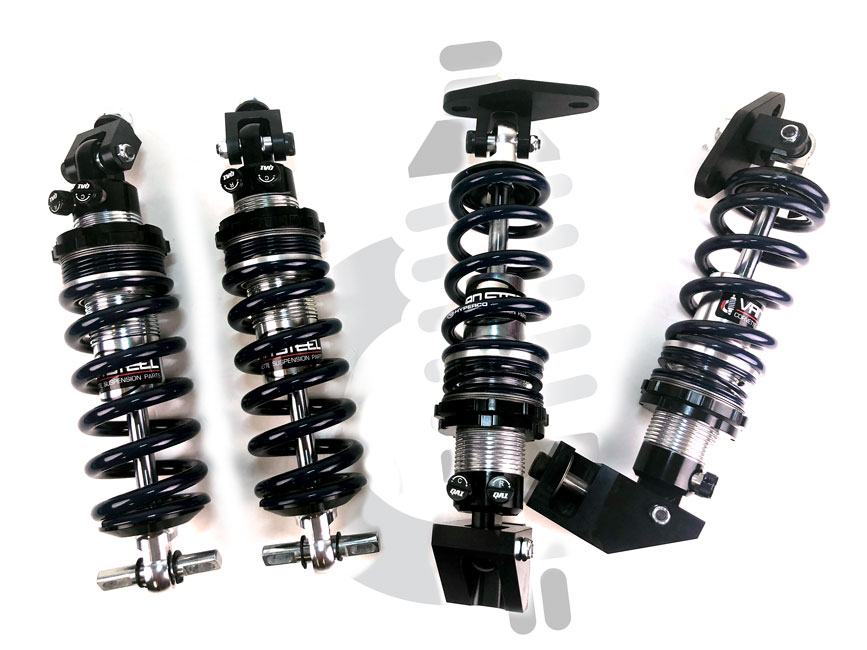 Review this document before ordering;
Our double adjustable coilovers allow you to adjust your ride height along with independently adjust compression and rebound in the shocks. This system allows you to completely tailor the car to your drive style and needs. From easy riding cruiser, to all out track attack. For lowered options, these are the best kits for you but beware, this kit will drop the car very low. See note below.
4 QA1 Double Adjustable Shocks
4 coilover springs, manufacturer varies due to availability

DA3: Track,

Front K=800, Rear K=600 (advanced autocrossers, 200tw or race tires for track)

DA4: Advanced Street,

Front K=600, Rear K=450 (200tw autocross, max lowered setups)

1.5"+ Drop

- shocks setup for minimum travel for lowered setups and track

**Max 2.375" Total Shock Travel**

Not recommended for street use
2 Lower Rear Coilover Mounts Designed by HardBar
2 Upper Front Clevis Pin Mounts Designed by Hardbar
1 Set of Spanner Wrenches
***NOTE***This kit is not very streetable. The car will be lowered with minimal ride height adjustment and travel. You might have an air gap of 3/4" above the top of the tire. You will most likely not be able to clear speed bumps. Choose wisely, these have a restocking fee.
Part number: CO-C4-DA-RACE
Price: $2,729.99 4 pcs
Built to order lead time: 3-5 Days